---
FrontDesk, Inc. Protfolio
Take a look through our portfolio for some of our favorite client case studies!
We area always creating new work, so check back soon for featured items.
---
CASE STUDY: EpDuckRace.org Redesign
THE CLIENT: Estes Park Rotary Duck Race Festival
The Estes Park Rotary Duck Race website www.epduckrace.org first went on-line in 2011 allowing duck adoptions electronically, originally designed by FrontDesk, Inc. Then, in 2017 it was decided that the duck race site needed to be responsive to all devices with an updated look and new eCommerce integration using Eventbrite event ticketing system. FrontDesk presented re-design options to key Rotarian Duck Race leaders to collaborate on the look and functionality you see today.
HOW WE HELPED: Web Design, Branding, Content Creation
Although there was a duck logo, the Festival needed an overall look that tied in everything. Special text treatment to "Estes Park Rotary Duck Race Festival" was given to along with rich graphic elements like a mountainous background to set the brand and tone of the newly dubbed "festival" addition to the 30 year traditional duck race.
The new www.epduckrace.org site is developed using WordPress.org with Amazon Linux AMI configured LAMP stack (Linux, Apache, mySQL, and PHP) on a Amazon Lightsail instance. WordPress.org's dominant Content Management System (CMS) powers nearly 30% of the world wide web. This CMS allows for the Duck Race Rotarians to post blog updates, change/create pages like how to get involved, promote, learn about the charitable Organizations, Sponsor recognition, of course Duck Adoptions, and prizes/winner's lists. FrontDesk provides their "FrontDesk WordPress Care Package" keeping the server and WordPress up-to-date and secure. The integrated Eventbrite event ticketing eCommerce application routes on-line traffic to on-line adoptions sales that create about one third of all adoptions sold!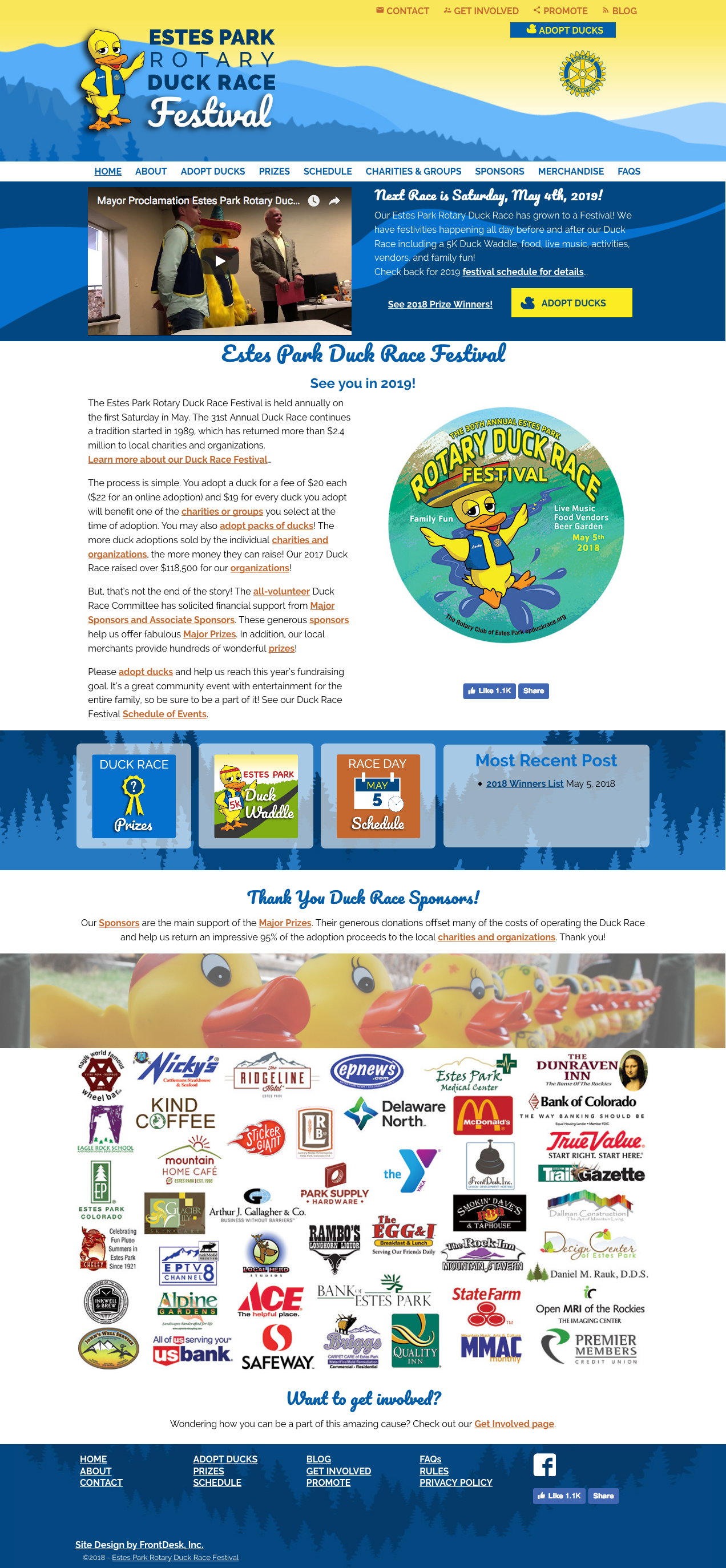 ---
CASE STUDY: Estes Park Duck Race Social Media Toolkit
THE CLIENT: Estes Park Duck Race
The Estes Park Duck Race is an event held annually in May where the community comes together in all aspects and rubber duckies race down the river. Adopting a duck costs $20 and $19 goes to the participating charity of your choice while giving the opportunity to win big prizes! This race has raised over 2 million dollars for local charities in 28 years. Every year the Duck Race committee tries new ways to get more duck adoptions. In 2015 the Estes Park Duck Race was looking to create a Toolkit of images and verbiage for the community to use to raise awareness in print, web, or social media. The focus of this idea was to be on social media empowering the charities to promote the duck adoptions on their Facebook or other outlets while highlighting the appeal of prizes that can be won when adopting a duck.
HOW WE HELPED: Social Media Toolkit
We have worked with the Estes Park Duck Race for years providing web design and other services. During the Toolkit production we worked with a copy writer using stock imagery and typography. We also created training documentation of how to use these items for the charities, sponsors, and community to share on their own platforms. These images were created and tested for all social media platforms needed for the charities including Facebook and Twitter. We also conducted a training seminar with the local charities to expand the knowledge of the charities to raise funds more for their cause. As a leading example to the charities, we created a social media calendar and scheduled posts until the race that ultimately raised engagement.

---
CASE STUDY: Tennessee Hemp Farm
THE CLIENT: Duane, and the tnhemp.farm
Duane is a start-up junkie that got involved in Tennessee Hemp Farm ultimately overseeing the complete overhaul of the company when the original management decided to opt-out. They did not have any sort of branding or web presence with their name while the company and farm was growing faster then they could keep up. They needed to find a balance of looking professional in the controversial hemp industry.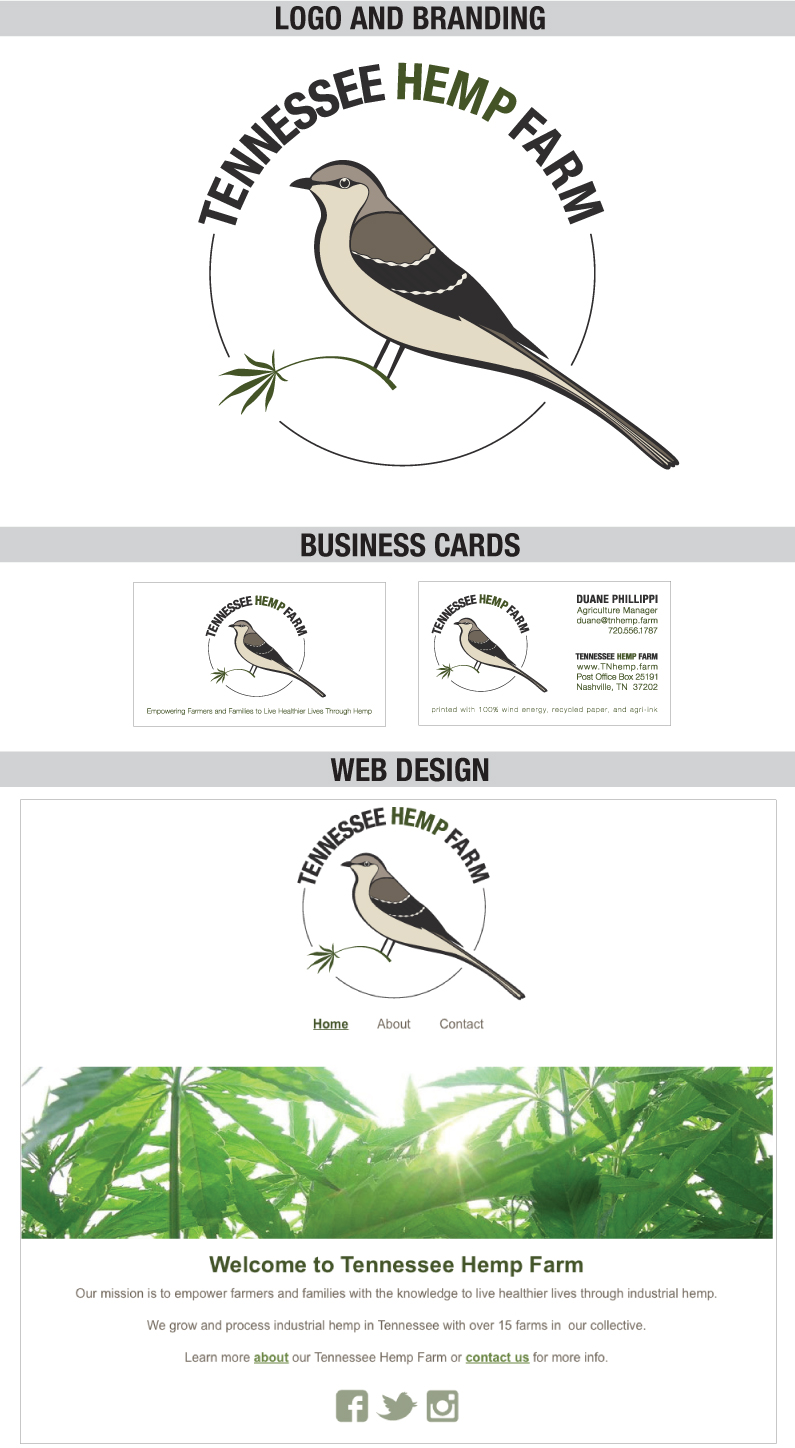 HOW WE HELPED: Logo, Branding, Website
Duane and the team worked with us quickly to design what they needed just in time to look professional for upcoming trade shows and events. We created a logo, business cards, and responsive web design all expedited to get to the printer and launched on time. The goal to create a look that represented their state and their industry in a professional way was accomplished in the design with the state's bird and hemp leaf. The company and farm is still thriving in beautiful Tennessee looking to soon expand.

---
CASE STUDY: Choosy Children
THE CLIENT: Choosy Children Veggie Powder
When Rachel's daughter developed a sensory disorder making normal tasks difficult like eating vegetables, she had to find other ways to get her daughter the nutrition she needed. She developed Choosy Children Veggie powder for choosy eaters to still get their veggies. Rachel had a product that was ready to go and although she had tried working with designers before, she still did not have what she was needed to launch: bradning, labeling, web design and promotional materials she would be proud to hand out.
HOW WE HELPED: Logo, Branding, Packaging
Jumping in on Rachel's vision was seamless as she already had great ideas and the drive that paired wonderfully with our skills. We delivered a brand for Choosy Children, art work for the varieties of veggie powders, label designs, business cards, postcards, stickers for sample pouches, and a website with ecommerce functionality that integrated to her PayPal Standard account. Rachel was ready to launch!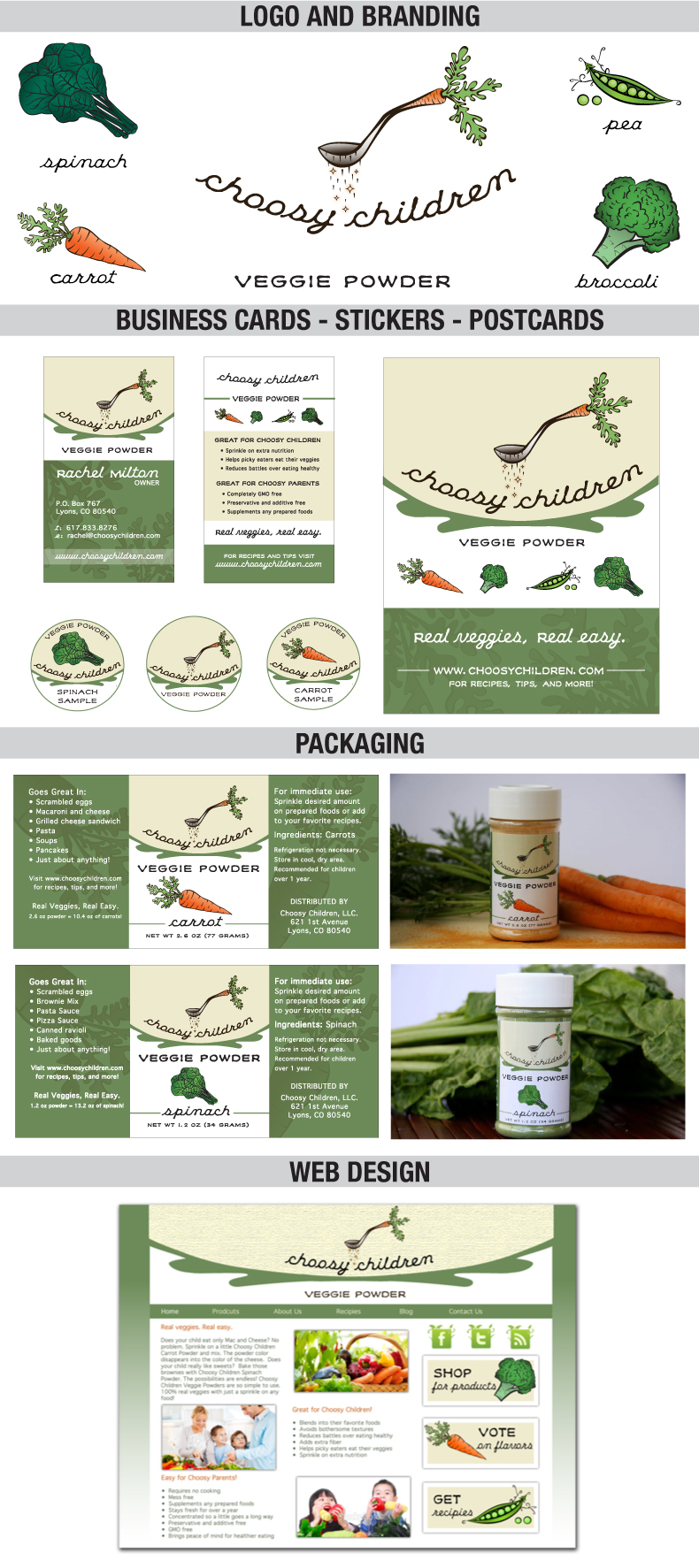 ---
READY TO EMPOWER YOUR BRAND WITH FRONTDESK, INC.?